Today, we are looking at the ten best Lego sets to invest in that are retiring here at the end of 2022.
Are you ready? Let's jump into it.
If you know anything about Lego sets – investing, buying, and selling – you know that Lego sets only exist on the shelves for a limited amount of time. That can be as long as five years and as short as one year, but every year, there is a list of retiring Lego sets that comes public.
And we're going to be looking at that list today. So, you might be wondering, where do I find out about the sets retiring at the end of each year?
Required Disclaimer – This is Pure Speculation
My predictions are pure speculation, and nothing is set in stone until the retired product tag shows up on lego.com.
Let's Look at the List
I'm using the list from Brick Fanatics for the basis of this article. They are known to be reliable and have up-to-date information on retiring sets.
This year's list is pretty extensive. We have over 200 sets that are projected to retire between July and December of 2022.
Volkswagen T2 Camper Van 10279
Volkswagen T2 camper van is from the creator expert line. Every year, Lego releases several different creator and expert cars.
The T1 camper van was the longest-lived Lego set in the retail market. It lasted almost eight years on the market, far surpassing any other Lego set. And still, even though it was available for so long, the set has appreciated post-retirement.
It's trending from $180 to $210 on the secondary market. The original retail value for the T-one camper van was $120. So it has gone up in value.
Towards the end of its life, it was on sale for $90-100. And it still has incredible collectability. That's why the T2 camper van makes the cut. However, the T2 is significantly more expensive than its predecessor. The MSRP for the T2 is $179.99.
It's not been on the market very long – about two years. And if it does retire at the end of 2022, it should see a spike in value.
It's considered less attractive than the T1 camper van, but I don't think that will stop collectors. This set should do well post-retirement, and three to five months in could be worth anywhere from $200-250.
Carnage Helmet Head Bust 76199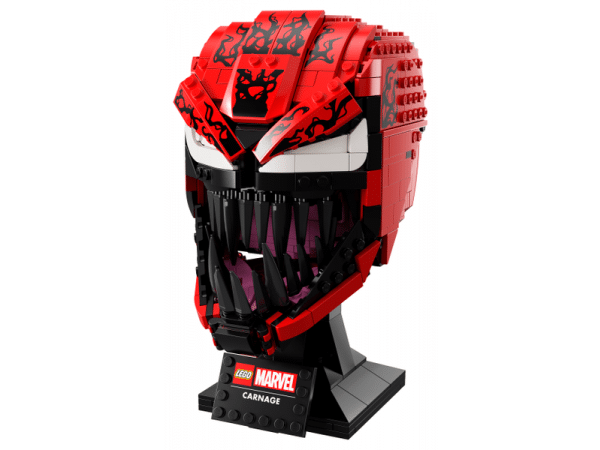 The framework we can look at for this set is the tie fighter pilot helmet. But, again, that was a target exclusive lego.com and target.com here in us, where the only places you could get that Lego set has blown away expectations.
Initially available for $60, it's trending somewhere around $200 on the secondary market.
Do I think the carnage is going to do that? Well, no, because I believe investors, collectors, and retailers alike have learned there's some collectability to these helmets and these type of sets, but this set is still a target.com and lego.com exclusive.
That's the only place you can get it. And there have been times when the set has been entirely out of stock. And the price has skyrocketed on the secondary market.
I sold a couple of them for like $110 when they were just out of stock randomly in the last couple of months. So it's pretty available right now. You can pick it up on most target shelves and target.com. So I would encourage you to do so.
There will be few opportunities to get this set at a discount because it's highly desirable. But again, this is one I'm a little bit skeptical that it retires this year. Lego could extend its life because they know the desirability and collectability of this line of sets.
But if it does retire here at the end of 2022 could do well post-retirement
Star Wars Bad Batch Attack Shuttle 75314